April is Autism Acceptance Month and as I am autistic, I would like to share a few blog posts with you to honour it! First, a list of book recommendations. I picked four books I've read and six that are on my TBR because other autistic reviewers have recommended them. They are of a variety of genres, age groups, and themes, but the one thing they have in common is that they are all autistic books written by autistic authors.
For the books I've read, you can find my ratings on The Storygraph, and reviews for some of them on my instagram account under the hashtag #puttingwingsonreviews.
---
Books I've Read
Queens of Geek by Jen Wilde
young adult contemporary fiction
add it on The Storygraph | add it on Goodreads
Charlie likes to stand out. She's a vlogger and actress promoting her first movie at SupaCon, and this is her chance to show fans she's over her public breakup with co-star Reese Ryan. When internet-famous cool-girl actress Alyssa Huntington arrives as a surprise guest, it seems Charlie's long-time crush on her isn't as one-sided as she thought.
Taylor likes to blend in. Her brain is wired differently, making her fear change. And there's one thing in her life she knows will never change: her friendship with her best guy friend Jamie—no matter how much she may secretly want it to. But when she hears about a fan contest for her favorite fandom, she starts to rethink her rules on playing it safe.
An Unkindness of Ghosts by Rivers Solomon
adult science fiction
add it on The Storygraph | add it on Goodreads
Odd-mannered, obsessive, withdrawn, Aster has little to offer folks in the way of rebuttal when they call her ogre and freak. She's used to the names; she only wishes there was more truth to them. If she were truly a monster, as they accuse, she'd be powerful enough to tear down the walls around her until nothing remained of her world, save for stories told around the cookfire.
Aster lives in the low-deck slums of the HSS Matilda, a space vessel organized much like the antebellum South. For generations, the Matilda has ferried the last of humanity to a mythical Promised Land. On its way, the ship's leaders have imposed harsh moral restrictions and deep indignities on dark-skinned sharecroppers like Aster, who they consider to be less than human.
When the autopsy of Matilda's sovereign reveals a surprising link between his death and her mother's suicide some quarter-century before, Aster retraces her mother's footsteps. Embroiled in a grudge with a brutal overseer and sowing the seeds of civil war, Aster learns there may be a way off the ship if she's willing to fight for it.
But You Don't Look Autistic At All by Bianca Toeps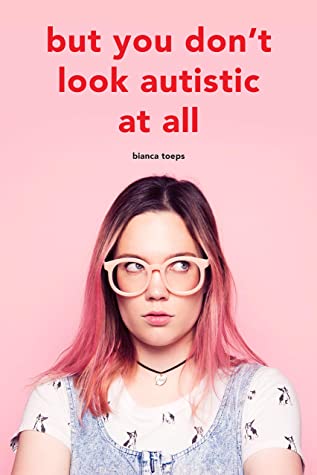 adult nonfiction
add it on The Storygraph | add it on Goodreads
Autism – that's being able to count matches really fast and knowing that 7 August 1984 was a Tuesday, right? Well, no. In this book, Bianca Toeps explains in great detail what life is like when you're autistic.
She does this by looking at what science says about autism (and why some theories can go straight in the bin), but also by telling her own story and interviewing other people with autism. Bianca talks in a refreshing and sometimes hilarious way about different situations autistic people encounter in daily life. She has some useful tips for non-autistic people too: what you should do if someone prefers not to look you in the eye, why it is sometimes better to communicate by email, and, most important of all, why it is not a compliment if you say: "But you don't look autistic at all!"
On the Edge of Gone by Corinne Duyvis
young adult science fiction
add it on The Storygraph | add it on Goodreads
January 29, 2035.
That's the day the comet is scheduled to hit—the big one. Denise and her mother and sister, Iris, have been assigned to a temporary shelter near their hometown of Amsterdam to wait out the blast, but Iris is nowhere to be found, and at the rate Denise's drug-addicted mother is going, they'll never reach the shelter in time.
Then a last-minute encounter leads them to something better than a temporary shelter: a generation ship that's scheduled to leave Earth behind and colonize new worlds after the comet hits. But each passenger must have a practical skill to contribute. Denise is autistic and fears that she'll never be allowed to stay. Can she obtain a spot before the ship takes flight? What about her mother and sister?
When the future of the human race is at stake, whose lives matter most?
---
On My TBR
Even If We Break by Marieke Nijkamp
young adult thriller
add it on The Storygraph | add it on Goodreads
FIVE friends go to a cabin.
FOUR of them are hiding secrets.
THREE years of history bind them.
TWO are doomed from the start.
ONE person wants to end this.
NO ONE IS SAFE.
Are you ready to play?
Nine of Swords, Reversed by Xan West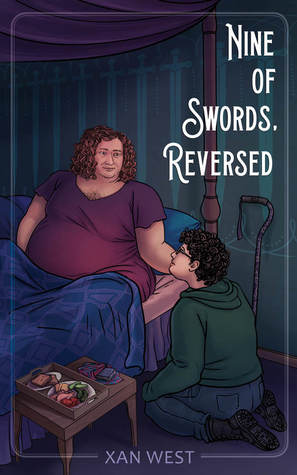 adult fantasy romance
add it on The Storygraph | add it on Goodreads
Dev has been with xyr service submissive Noam for seven years and xe loves them very much. Dev and Noam have built a good life together in Noam's family home in Oakland, where they both can practice their magecraft, celebrate the high holidays in comfort, support each other as their disabilities flare, and where Noam can spend Shabbos with their beloved family ghost.
But Dev's got a problem: xe has been in so much arthritis pain recently that xe has not been able to shield properly. As an empath, no shielding means Dev cannot safely touch Noam. That has put a strain on their relationship, and it feels like Noam is pulling away from xym. To top it off, Dev has just had an upsetting dream-vision about xyrself and Noam that caused one of the biggest meltdowns xe has had in a while. It's only with a timely tarot reading and the help of another genderfluid mage that Dev is able to unpack the situation. Can xe figure out how to address the issues in xyr relationship with Noam before everything falls apart?
Spectrums: Autistic Transgender People in Their Own Words edited by Maxfield Sparrow
adult nonfiction
add it on The Storygraph | add it on Goodreads
Solely written by trans people on the spectrum, this collection of personal stories foregrounds their own voices and experiences on a range of issues, such as coming out, access to healthcare, employment, relationships, parenting, violence and later life self-discovery among other.
The Lifeline Signal by Roanna Sylver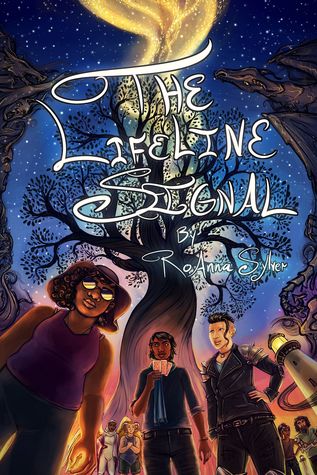 adult science fiction
add it on The Storygraph | add it on Goodreads
The sequel to Chameleon Moon.
Parole is still burning. And now the day everyone has been waiting for is finally here: it's collapsed. A lucky few managed to escape with their lives. But while their city burned, the world outside suffered its own devastating disaster. The Tartarus Zone is a deadly wasteland a thousand miles wide, filled with toxic storms, ghostly horrors, and just as many Eyes in the Sky as ever. Somehow, this new nightmare is connected to Parole. And it's spreading.
Now Parole's only hope lies in the hands of three teenagers reunited by their long-lost friend Gabriel – in their dreams. Growing up outside Parole, Shiloh Cole always had to keep xir energetic powers a secret, except from xir parents, Parole's strategist-hero Garrett, and Tartarus expert Maureen. When Parole collapsed, all contact was lost. Now, connected by Gabriel and their colliding pasts, xie joins collapse survivor Annie and the enigmatic, charismatic Chance on a desperate cross-country race, carrying a disc of xir mother's vital plans, whose encrypted contents may be Parole's salvation. First they'll board the FireRunner, a ship full of familiar faces that now sails through Tartarus' poison storms. Together, they'll survive Tartarus' hazards, send a lifeline to lost Parole – and uncover the mystery connecting every one of them.
The world outside Parole isn't the one they remember, and it didn't want them back. But they'll save it just the same. It's what heroes do.
The Reason I Jump by Naoki Higashida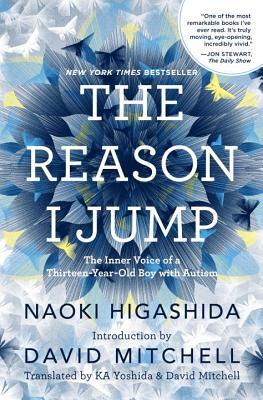 memoir
add it on The Storygraph | add it on Goodreads
Using an alphabet grid to painstakingly construct words, sentences, and thoughts that he is unable to speak out loud, Naoki answers even the most delicate questions that people want to know. Questions such as: "Why do people with autism talk so loudly and weirdly?" "Why do you line up your toy cars and blocks?" "Why don't you make eye contact when you're talking?" and "What's the reason you jump?" (Naoki's answer: "When I'm jumping, it's as if my feelings are going upward to the sky.") With disarming honesty and a generous heart, Naoki shares his unique point of view on not only autism but life itself. His insights—into the mystery of words, the wonders of laughter, and the elusiveness of memory—are so startling, so strange, and so powerful that you will never look at the world the same way again.
Written by Naoki Higashida, a very smart, very self-aware, and very charming thirteen-year-old boy with autism, it is a one-of-a-kind memoir that demonstrates how an autistic mind thinks, feels, perceives, and responds in ways few of us can imagine. Parents and family members who never thought they could get inside the head of their autistic loved one, at last, have a way to break through to the curious, subtle, and complex life within.
A Kind of Spark by Elle McNicoll
middle grade contemporary fiction
add it on The Storygraph | add it on Goodreads
A Kind of Spark tells the story of 11-year-old Addie as she campaigns for a memorial in memory of the witch trials that took place in her Scottish hometown. Addie knows there's more to the story of these 'witches', just like there is more to hers. Can Addie challenge how the people in her town see her, and her autism, and make her voice heard? A story about friendship, courage and self-belief, perfect for fans of The Goldfish Boy.
---
These have been my autistic book recs. I hope you've found at least one book among this selection that you'd like to read. If you have autistic book recs of your own, comment them below!
For my last blog post this month, I want to include the thoughts of other autistic people. If you are autistic and want to share what you wish more people knew about autism, send me a message! More information in this tweet.
If you like my blog and would like to support me, consider pledging to my Patreon or buying me a virtual coffee through ko-fi.